To report your MCLE compliance, click the "MCLE" link in the reminder located at the top of your profile or click the "Minimum Continuing Legal Education (MCLE)" link in your profile menu.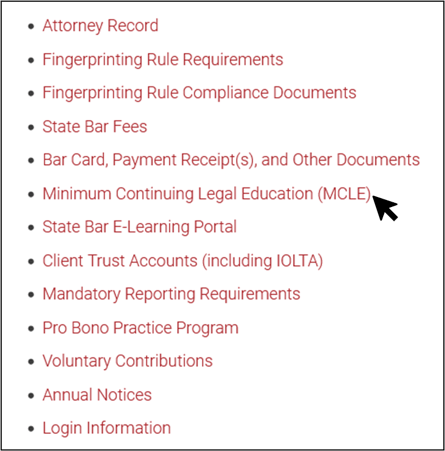 Under the "Minimum Continuing Legal Education (MCLE)" heading, click "Submit my MCLE compliance card now" to conveniently report your MCLE compliance online.
Please note: Only licensees in the current reporting MCLE compliance group are able to access the MCLE compliance card and report MCLE compliance. The MCLE compliance card is not available for licensees in MCLE groups that are not currently required to report. For 2023, licensees in MCLE compliance group 3 are required to report compliance by February 1.

Please note: If you do not know your requirement, click the "determine how many MCLE hours are due" to calculate your MCLE requirement.
Next, select the appropriate MCLE compliance card option and click "Continue" to review and confirm your compliance card prior to submission.
Finally, complete your MCLE compliance reporting by clicking "Submit Compliance Declaration." A confirmation email will be sent to your email address of record.